Chiropractor James Schone D.C.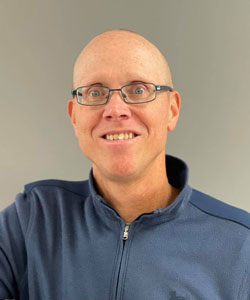 Doctor James Schone is a chiropractor at Schone's Chiropractic, P.C. in Manistique, MI. If you are struggling with neck or back pain, headaches or migraines, carpal tunnel, sciatica, or any other health condition please contact us today.
Dr. James Schone is a 1997 graduate of Palmer College of Chiropractic in Davenport, Iowa. He is also a member of The International Chiropractic Association and The Michigan Chiropractic Association.
Dr. Schone was born in Bettendorf, Iowa and was raised in Pataskala, Ohio. Dr. Schone started to practice chiropractic in Ohio from 1997 to 2001. He then moved in his practice to Escanaba until 2005 when he opened Schone's Chiropractic, P.C. in Manistique, Michigan from 2005 to present.
Dr. Schone has advanced training in Gonstead Technique as well as Koren Specific Technique (KST).
Dr. Schone has adjusted patients of all ages. From newborn patients all the way up into the 90's.
Monday
6:30am - 11:00am
12:30pm - 5:15pm
---
Tuesday
Closed
---
Wednesday
6:30am - 11:00am
12:30pm - 5:15pm
---
Thursday
6:30am - 11:00am
12:30pm - 5:15pm
---
Friday
6:30am - 11:00am
12:30pm - 5:15pm
---
Saturday
Closed
---
Sunday
Closed